Parkhaus Platzhirsch - Your advantages at a glance
Can you park at Frankfurt Airport?
There are many parking options at Frankfurt Airport, but one is the top dog among the parking garages: Parkhaus Platzhirsch in Kelsterbach!
How much does it cost to park at Frankfurt Airport?
If you park at Parkhaus Platzhirsch in Kelsterbach, you will get a safely monitored parking lot directly at Frankfurt Airport, which will cost you from €5 per day.
How do you pay for parking in Frankfurt?
Parkhaus Platzhirsch allows you to pay online by credit card or on-site in cash, with credit card or giro card. Not only is our parking garage in proximity to Frankfurt Airport, but it will also only cost you from €5 per day.

Cheap parking at Frankfurt Airport.
The closest and largest of all parking lots at the airport - with a 50% price advantage compared to other airport parking.
With a distance of only 3.7 KM, 8 minutes transfer time and over 2,100 parking spaces, our parking garage is the Platzhirsch at Frankfurt Airport.
Travel shop in the parking garage for everything you need for a pleasant trip.
Take advantage of the on-site opportunity to quickly buy some small things - of course much cheaper than the airport.
Comfortable and free shuttle service 24 hours a day directly to your airport terminal.
You will be taken quickly, flexibly and conveniently to your flight, while your car is parked safely and securely. Simply book online using our easy-to-use reservation form reservation form.


You can hardly start your holiday or your business trip easier and more relaxed you can hardly start your holiday or your business trip. Except perhaps with our:
Valet parking directly at the terminal
With PARKMICH Valet Service, we are the leading provider of convenient valet parking at Frankfurt Airport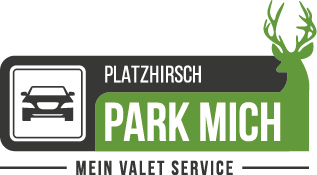 We take over your vehicle at the terminal and bring it straight to its parking lot at Parkhaus Platzhirsch. Of course these transfers will be done by qualified personal and are fully insured by us. In addition to saving time, the comfort and the appropriate safety for your vehicle, PARKMICH offers additional services for your vehicle, which you can book in a few steps.
Check out our Valet service and book comfortably in advance.
---
Car care and additional services
Imagine you are coming back from your journey and not only get your car back and forth comfortably, but also cleaned pico bello from inside and out. We offer you these and numerous other services "by the way".